BY CHRISTINE MINAS | SEPTEMBER 27, 2017
I am often asked about how I work with private clients. As each client's personality, needs and tastes are unique, so is each project's journey and final visual outcome.
This is the story of my client Ann Moore's art collection and how we worked together to enhance and grow it over the last two years. While many of the people I work with are new to learning about and collecting art, Ann had been collecting art, sculpture and decorative objects for many years before meeting me. After getting to know each other socially, Ann mentioned she was getting ready to move apartments and that she would like to acquire additional artworks for her new home. That is how our professional relationship came to be.
My task has been to introduce her to new artists and galleries that she might not know about otherwise. We have visited art fairs, galleries and artists' studios to source compelling works for her to live with at home. As she was already a collector, I first set out to understand her existing interests and aesthetic in order to use them as a springboard for new suggestions and discoveries.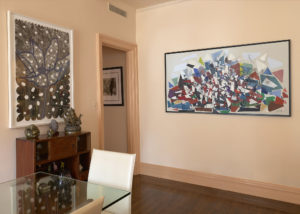 Ann is an ideal collector because she has the confidence to buy whatever captivates her. Through the process of collecting, her taste has developed to include more challenging and complex work. Happily for me, she is very open to new suggestions.
Overall, what unites Ann's collection past and present is an interest in the use of (often humble) materials and evidence of the artist's hand in the making of the work. If you consider a stainless steel Jeff Koons rabbit, you have the exact opposite effect as you cannot tell how it was made or if it was even made by a human being at all. In contrast, Ann is drawn to works that reveal how they were made and what they were made of.
One thing that has stood out to me about Ann's relationship to art is the pleasure and comfort she derives from being cocooned by it, which means that there are a large number of works installed throughout her home. My personal taste might tend towards a more pared down aesthetic, but when working with collectors, my goal is not to impose my own taste upon them but to help them fully realize their ideal collection with my guidance.
The Project
My approach to Ann's project required a multi-step plan. As early on she mentioned that she no longer was in love with everything that was in the current apartment, the first step was to perform a kind of art triage. We figured out which artworks would go on to the next apartment and which would go to storage or removed from her collection entirely.
The second step was to identify works that needed some attention, whether minor conservation or reframing. All of the works that needed intervention were sent out to conservators or framers before she moved. We requested delivery to her new place on a date after the move.
Before the move, Ann and I visited her new apartment and decided where the largest works would look best. Those works became the anchors around which we installed the rest of the collection.
After Ann had moved, she gave me a morning to have free reign over her apartment so that I could lay out all of the art. She came back in the afternoon, we reviewed my proposal, made a few changes and then I worked with a professional art handler to install everything.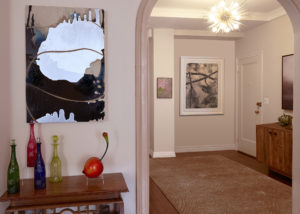 Now we were ready for new art. I took Ann to a number of galleries in New York, including Praxis which is a gallery that features works by Latin American artists. From Praxis, Ann acquired a gorgeous work of poured paint on a thick wood panel by Miami and North Carolina-based artist Ivan Toth Depeña (far left in image above).
Ann tells me that one of her favorite experiences thus far has been visiting the Long Island City studio of artist Bill Claps. There, she acquired a mixed media work entitled Tropical Thicket, Negative, which is based on photographs he took of vegetation in Cuba (the artwork in the white frame shown above). Claps advised us on dimensions for a custom box frame that he prefers for his work and put us in touch with a framer he trusts. Very often artists have precise instructions about how they like their works framed and as an advisor, I work with artists to make sure framing is produced to their specifications.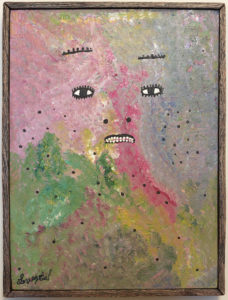 Ann and I also regularly attend art fairs together. Earlier this year, Ann acquired two works by Haitian artists at the Outsider Art Fair in New York. One of the works is a painting by artist Leroy Exil (pictured above). Sold by ZQ gallery, this captivating painting of a Haitian vodou Loa is typical of Exil's mystical paintings of the 1970s. 
I admire the way that Ann has set no limits on her collection. She collects work from all over the world, by artists male and female and of all ages. She has the conviction to let her eye love what it is drawn to, and the confidence to acquire a work based on liking it alone.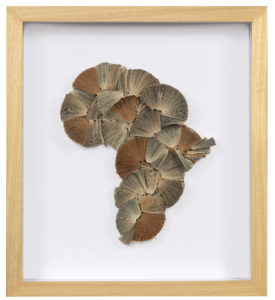 Finally I should note that I have learned a lot from Ann as well. On a recent trip to Cape Town she acquired the work shown above by Keri Muller. It's made of tiny bits of cut, folded and assembled paper from printed books that have been arranged in fan-like shapes to suggest the form of Africa.
My work as Ann's art advisor has resulted in a collaborative friendship that is filled with discovery for both of us. Additionally, Ann has formed new relationships with artists and galleries that will continue into the future. Certainly one of the most satisfying aspects of my work is creating these opportunities for new connections between art collectors, artists and galleries.